Are you a fan of bike rides and you'd like to explore the countryside at the same time? Thanks to the vineyards, Burgundy canal and historic heritage sites, Dijon and the surrounding area have everything you need for your getaway in nature! Visit the region by bike and be your very own guide!
There are several routes to choose from, here's some information…
Let's head south! From Dijon to Beaune, the 'Vineyard Route'
Description: Duration: 1.5 hrs – Level of difficulty: Average – Distance: around 25 km
Today, I'm taking you along the Vineyard Route between Dijon and Beaune. This 23 km route winds through the vineyards along country lanes! Along the way, you'll be exploring the greatest winegrowing estates where the best wines in the world are produced! The route departs from the Port du Canal in Dijon. Let's go and explore the 'Climats' of Burgundy that have been awarded UNESCO world heritage status.
N.B.: Be careful, this route is mainly on roads that are shared with cars. Therefore, I do not really recommend doing this ride with children. If you're here with your children, I advise you to opt for the ride alongside Burgundy Canal that I will come to later.
If you would like to include some sightseeing on your ride and stop to explore some villages on the way, I'll tell you what there is to see!
Also, if you're as much of a foodie as I am and a fan of cheese in particular, you might like to know that this cycle route will take you past some of the area's speciality cheese dairies such as Brillât-Savarin or Citeaux!
Before leaving, you could stop by the Cité Internationale de la Gastronomie et du Vin, visit the Péniche Cancale, the Obélisque and the sculpture by Robert Rigot entitled 'Rêve Ailé' (winged dream) in the Port du Canal area which pays tribute to Gustave Eiffel, born in Dijon in 1832.
The first town you'll be crossing through is Chenôve where you can discover the wine press once owned by the Dukes of Burgundy, and the Church of Saint-Nazaire in the old town of Chenôve.
Have you still not seen any vines? Don't worry! Your vineyard tour really begins in Marsannay-La-Côte where you can stop off at the Château for a private tour of the wine cellars and a tasting of the Château's best vintages, overlooking the vines. This is the perfect experience to really get stuck into the topic on hand!
The next town is Fixin and you will instantly be amazed when you see one of Burgundy's most beautiful semicircle-shaped washhouses, a listed historic monument. You will also enjoy admiring the pretty glazed roof of the Church of Saint-Antoine! And now you are completely surrounded by vineyards! Welcome to the Route des Grands Crus (Route of the Great Wines)! Make sure you stop off to drink plenty of water and take the time to enjoy the views.
What a pleasure it is to discover these pretty little winegrowing villages! The next one even boasts its own 19th-century Neo-Renaissance-style château. It was built by Stéphen Liégard and is called the Château de Brochon. Since 1962, it has been a high school and it is open to visitors during the school holidays, in the summer and believe me, it's worth a visit!
Congratulations! When you arrive in Gevrey-Chambertin, you're already half way there! If you haven't brought a picnic with you, this is the perfect time to stop off at one of the restaurants in the village and sample the real tastes of Burgundy at Guy and Family or why not try out a charming, historic place, the Castel de Très Girard! I'm also going to stop for lunch in this village and take some photos so I can bring some wonderful memories back home of this sunny day out!
With a full belly, I set off once again towards Chambolle Musigny, Vosne Romanée and Nuits Saint Georges! I feel so lucky to be exploring these beautiful estates! The winegrowing landscapes are really incredible!
Enjoy the rest of your ride!
Description: Duration: 2 hrs 15 min – Level of difficulty: Easy – Distance: Around 34 km
This time we're changing direction and heading north-west to La Bussière-sur-Ouche. Just like the previous route, this one also departs from the Port du Canal in Dijon.
Have you ever heard of the 'Coulée Verte' route? The 34 km route we are embarking on today runs along the Burgundy Canal towpath. This is a very pleasant ride along the water's edge and you can really make the most of the natural environment while discovering the lock-keepers' houses along the edge of the canal. This is ideal for a family bike ride because the entire route is reserved for pedestrians and cyclists, so you won't be disturbed by any cars.
I decided to bring a picnic lunch and some water with me in my backpack! I intend on really making the most of nature and stopping for a lunch break in this peaceful setting.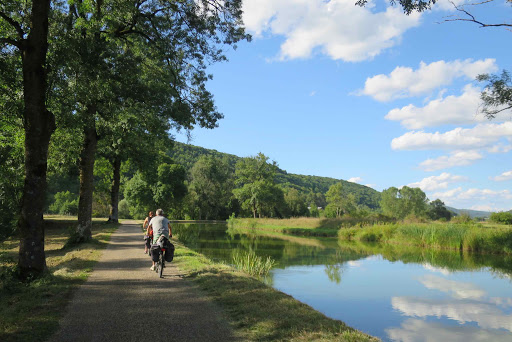 This ride is a chance to explore the Ouche, a river that is around 100 kilometres long and isn't suitable for boats. We will therefore be crossing through several villages that have 'sur-Ouche' in their name.
On the way there, you'll be riding past Lac Kir, Dijon's artificial lake created by Félix Kir in 1964 and the waters of the Ouche cross through here from east to west.
Just like the first cycle route, you can stop off to visit each of the villages if you so wish, you'll just have to leave the cycle route momentarily.
I stop and turn around in La Bussière-sur-Ouche because I still have to cycle all the way back! But if you want to continue along the canal, you can! You'll find all the information you need in the Vélibook.
I hope you enjoy these bike rides!
See you soon on Burgundy's cycle paths!
Other rides?
The Tour de Bourgogne à Vélo
On the Tour de Bourgogne à Vélo, you'll be exploring Burgundy along an incredible network of canals suitable for cycling and greenway routes on former railroad tracks. This historic region is renowned for its wines and you can discover some of them on the Vineyard Route. There's a surprise around pretty much every corner in this region: a château, a chapel, a village, a lock, a village, a winery, etc. This long cycling loop trail is ideal for families or for your first cycling experience!
The Eurovelo 6 also goes by the name 'Atlantic – Black Sea' and is part of a vast European network of cycle paths. It is 4,450 km long and goes from Saint-Brevin-les-Pins in France to Constanța in Romania, via Burgundy.
"I love cycling, but not uphill! This region is ideal for me because it's fairly flat and when it's sunny it's wonderful… And the scenery is an added bonus!" "

Gilles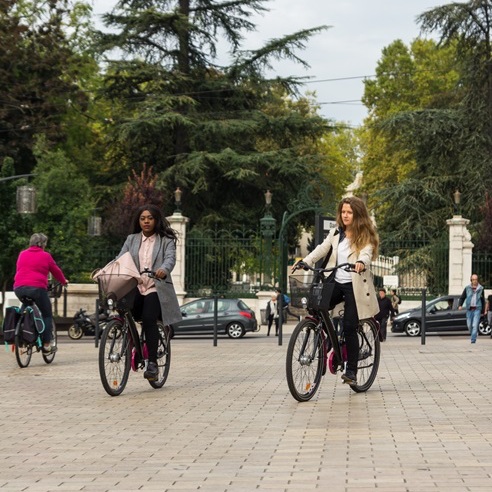 There are 250 kilometres of cycle paths in Dijon and plenty of self-service bikes are available thanks to the DiviaVélodi service.