The Brunch des Halles is coming back from the 30th May 2021 for the 6th edition!
For 6 years now, every Sunday during the summer season, a group of chefs has been concocting the brunch menu full of delicious sweet and savoury dishes. To make sure this highly symbolic event can still take place, this year we are once again offering a take-away service!
The Brunch des Halles is an unmissable event, a Dijon experience that is absolutely not-to-be-missed! The opportunity to taste local and regional products, and discover the Halles de Dijon in a musical atmosphere, with the "pick and go" service. Every Sunday, a music group will be playing, to liven up the market halls.
The Brunch des Halles is a great excuse to take a stroll around the town and then go for a picnic in a pleasant place nearby.
So how does it work?
Every Sunday, from the 30th May to 19th September, come and pick up your brunch at the Halles de Dijon! There are 4 services: 10am, 11am, 12pm and 1pm!
Our top trip: book in advance!
Book your brunch online or at the Dijon Tourist Office from Tuesday 18th May 2021.
Online: www.bhd.otdijon.com / www.destinationdijon.com
At the Tourist Office: 11, rue des Forges, in Dijon • open from Monday to Saturday from 9:30am to 6:30pm • Sundays and bank holidays from 10am to 6pm. Payment possible by card, cash or cheque. (We do not accept French holiday vouchers and restaurant vouchers).
Proof of purchase must be presented on the day at the welcome desk/ticket office in the market hall, near the entrance on Rue Ramey.
Please note: it is not possible to book your brunch directly at the market hall.
Good to know: security checks.
As part of the national security alert system (Vigipirate) and to respect social distancing measures, only two of the market hall entrance doors will be open during this event: entrance on Rue Ramey (main entrance for the public, welcome desk/ticket office) – Exit via Rue Odebert.
Stay connected!
Find the chef's menu every Monday on the Brunch des Halles event's Facebook page.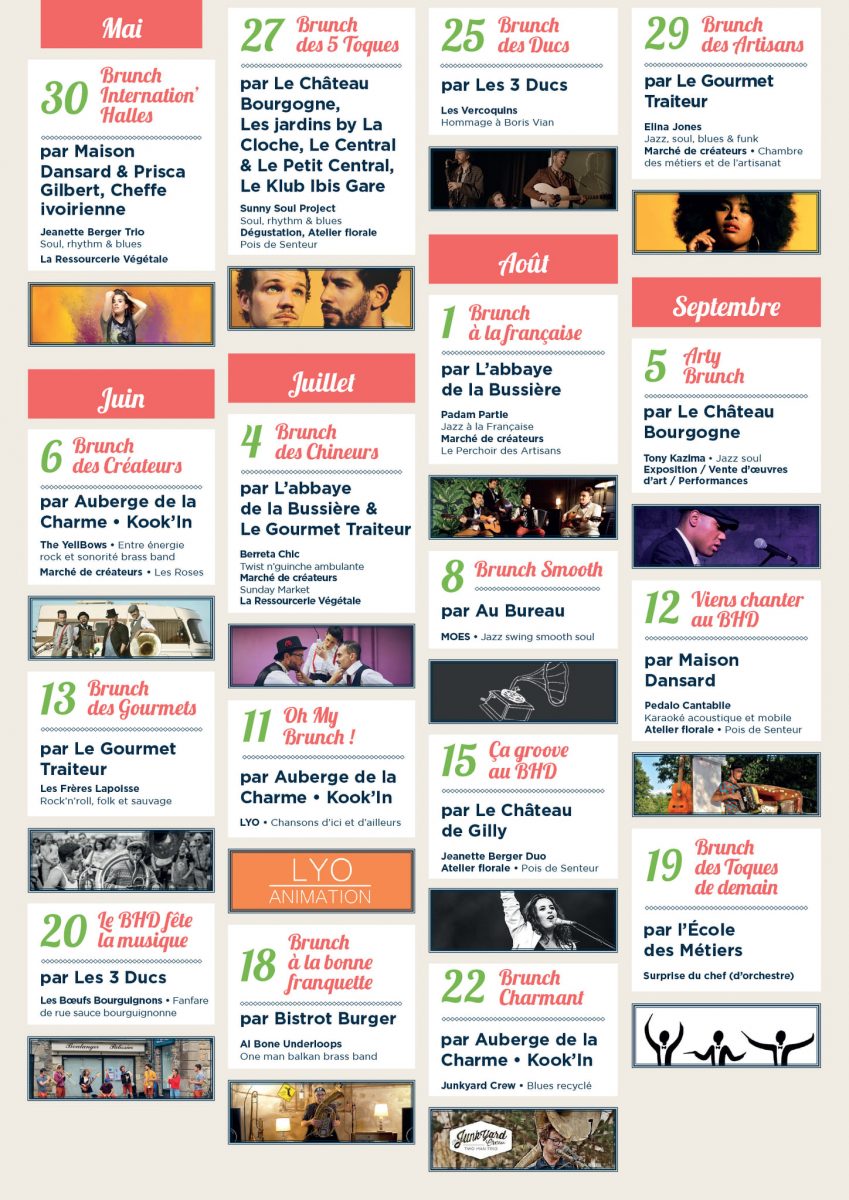 Keep updated with the latest news about the Brunch des Halles on the Brunch des Halles facebook page!